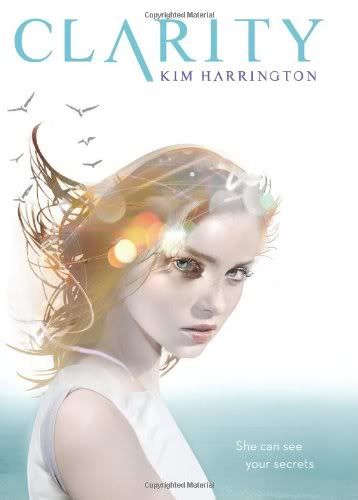 Clarity
by Kim Harrington
Publication Date:
March 1st, 2011
Publisher:
Scholastic Point
Page Count:
242
Format
: Hardback, Bought
When you can see things others can't, where do you look for the truth?
This paranormal murder mystery will have teens reading on the edge of their seats.
Clarity "Clare" Fern sees things. Things no one else can see. Things like stolen kisses and long-buried secrets. All she has to do is touch a certain object, and the visions come to her. It's a gift. And a curse.

When a teenage girl is found murdered, Clare's ex-boyfriend wants her to help solve the case - but Clare is still furious at the cheating jerk. Then Clare's brother - who has supernatural gifts of his own - becomes the prime suspect, and Clare can no longer look away. Teaming up with Gabriel, the smoldering son of the new detective, Clare must venture into the depths of fear, revenge, and lust in order to track the killer. But will her sight fail her just when she needs it most?
I think I first saw this book awhile back on a Goodreads giveaway or something. It sounded interesting enough, so I entered, and of course I didn't get it. But then I found it at Borders during the closeout sale so here we are. At first glance, I'm not big on the cover. It's too digital and fake, the girl isn't that good looking, and it doesn't tell you much about the story. I got past it. I enjoyed this book enough, it was really fast-paced and I read it in less than 24 hours, which is always fun, but it didn't make me think, it didn't make me question anything, it was just sort of a good read.
There are A LOT of characters to keep track of which got sort of hectic at times. There's Clarity, the main character (who is like Ben from the
Touch
series) she can see what's happened in a person's life by touching their objects. Her brother is Perry, who talks to dead people. Her mom can read minds. Her ex-boyfriend Justin is a skeeze, and I don't know why everyone in the book liked him so much. Her new hottie mchottie interest is Gabriel, seriously Gabriel even SOUNDS hotter than Justin, anyways, he's "bad news" because he's the new detective's son. Then there's Nate, Perry's best friend, and on and on and on. Yeah there are a lot of people to keep track of.
I don't really like when there are so many characters because it makes it really hard to focus on building a really deep set of intricate characters. Instead you end up with a million shallow characters who you don't really get close to. Either way, in 242 pages, how much character building can you really do?
The plot is pretty interesting, a tourist girl is murdered so Justin enlists Clarity (Clare for short) to touch things and help find out what happened to this girl. Oh yeah, Justin is the mayor's son.... Throughout her search plenty of weird things happen, more people die, yadda yadda, nothing we haven't heard of before. The end was a bit of a shocker, but I had sort of guessed who the killer was ahead of time so it wasn't a big "OMG" moment like I would have liked. There are just so many characters you sort of know it's going to be one of them. You can tell I'm really hung up on this too-many-characters thing huh? The ending was also pretty happy, another one of those "YA books have to have optimistic endings" decisions I guess.
Overall, the book was good enough, I enjoyed reading it, but I probably wouldn't read it again. It was quick, fun, intriguing, with the right amount of sexy, and I'd recommend it to anyone who just wants a fun read. Something "fluffy" :)