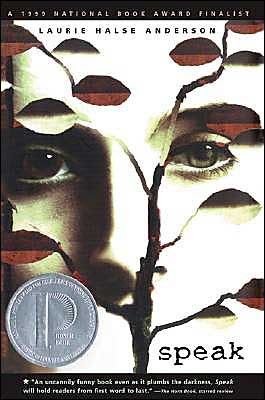 Speak
by Laurie Halse Anderson
Published:
October 22nd, 1999
Publisher
: Douglas & McIntyre
Page Count
: 198
Format:
Paperback, Bought (for school)
"Speak up for yourself - we want to know what you have to say." From the first moment of her freshman year at Merryweather High, Melinda knows that this is a big fat lie, part of the nonsense of high school. She is friendless, outcast, because she busted an end-of-summer party by calling the cops, so now nobody will talk to her, let alone listen to her. As time passes, she becomes increasingly isolated and practically stops talking altogether. Only her art class offers any solace, and it is through her work on an art project that she is finally able to face what really happened at that terrible party: she was raped by an upperclassman, a guy who still attends Merryweather and is still a threat to her. Her healing process has just begun when she has another violent encounter with him. But this time Melinda fights back, refuses to be silent, and thereby achieves a measure of vindication. In this powerful novel, an utterly believeable heroine with a bitterly ironic voice delivers a blow to the hypocritical world of high school. She speaks for many a disenfranchised teenager while demonstrating the importance of speaking up for oneself.
First off, I have to thank my wonderful Young Adult Lit professor, Dr. Warner, for finally getting me to read such a powerful book. Speak has been sitting on my shelf for some time now, and although I've been meaning to read it, I've just put it off for other, newer things. I just finished it, literally about 5 minutes ago, and I can't stop smiling. This is an incredibly dark, depressing, hilarious, ironic, heart-pounding book and I enjoyed every page. Melinda was raped at a party, she called the cops, but she never spoke up. Now everyone hates her, and she's completely friendless. She's withdrawn into herself, her parents think she's a delinquent, her teachers think she's stupid, but no one stops to ask "what happened?"
I have to admit, this book makes me think twice about that weird kid in high school who no one really talked to. It makes me want to reach out to those that are considered outcasts. It makes me want to hug someone, who just looks like they need a hug. Melinda is so troubled, but so hilarious. She pokes fun at her teachers, calling her English teacher "Hairwoman" and her social studies teacher "The Neck" and she names a foreign exchange student "Greta-Ingrid". Melinda had me laughing continuously, you never really realize how much she's hurting until she sees Andy Evans, or as she calls him "IT". IT ruined her life. IT took away her friends. IT stole her innocence. IT won't leave her alone. I absolutely HATED IT. I wanted to jump into the book and slap him in the face. He's a conceited jerk who plays girls and thinks he's God's gift to mankind. I hated him. And I loved how much I hated him.
The language is superb. It's almost like Anderson jumped inside the mind of a teenager and took a digital recording of every thought and saying. You can tell she understands the way a teenager thinks. It's always really important to me, when I read a YA novel, that the author captures the authenticity of their subject. And that authenticity is spot on. The cruelty towards Melinda from her former friends and other classmates is so accurate I could cry. I did cry. I remember being bullied, and this brought back those memories. I wanted to hug Melinda.
Overall this book was absolutely breath-taking. It's an incredibly accurate portrayal of a teenager girl who's lost her way, who's been traumatized, who doesn't know what to do or what to say. It's a wonderful example of overcoming fears, hardships, and trauma. While Melinda struggles to hold herself together, she finally finds her voice, and herself. I definitely recommend this book to anyone who's been bullied, suffered a hardship, or just been through high school. See a situation from someone else's perspective, and teach yourself how to ask someone, "Are you okay?" Read this. Right now.
(Amazon / Barnes and Noble)