Blogoversary Day #2 - My Fabulous Blogger Friends and Influences!
One of the best things about blogging is the fantastic community that I'm surrounded by! Since I've started blogging I've made so many amazing friends with whom I've been able to share, not only my bookish life, but my personal life as well. When times are tough, I know I can sign on to Twitter and rant to the world about my problems and I will be supported by so many amazing people. Since not a lot of my friends in real life are big readers, or they don't share the same passion for it as I do, I've loved getting to know so many people who enjoy the same books as I do, and I love being able to chat about books with people who actually GET IT!! So today, I wanted to share with you some of the amazing bloggers who have really helped and supported me along the way :)
One of my best blogger friends is the amazing Sasha from Sash and Em. This girl is just one of the sweetest people out there, and I absolutely love her to death. I've actually had the pleasure of meeting her IN REAL LIFE a few times and she's just so much fun. She's so down to earth and I know I can always go to her with a little rant or rave, or to just talk about a good book :)
The insanely awesome Giselle from Xpresso Reads has been such a mentor to me since I first met her. She's never once disregarded one of my questions, and she's always so patient with me whenever I beg her for blogging advice. I can't even imagine where I would be without her, she's helped me get so many of my publicity contacts, as well as read through some of my posts before they go live. She's one of my best blogger friends, and I hope we'll be close for a long long time!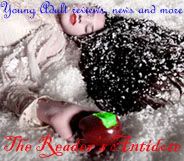 I wouldn't just say that Nicole from The Reader's Antidote is one of my best blogger friends, I'd say she's one of my best friends. I seriously love this girl, from the first day we talked about a Lauren Oliver signing she went to (where she got me a SIGNED copy of Delirium! and I sent her a SIGNED copy of Mara Dyer!) We're always sharing blogging advice and and helping each other out with different issues, and I know I can always count on her to have my bloggy back! Hopefully, we'll get to meet in person some day because I know we would have so much fun! <3


Incase your'e not on Goodreads, Jude is one of the awesome mods for the YABC group and she actually played a big part in my decision to start blogging. For the YABC book group she does a great feature called "Blogger Lift" and this is actually where I first started seeing bloggers. I started following all of them and reading their reviews, and eventually I decided I wanted to do that! So, thanks Jude for starting Blogger Lift and helping me decide to start blogging! Also, she made my blog button for me! Isn't it cute :) She's fab, we're good friends now<3
I haven't known Jeffrey West from Novel Thoughts for long, but I have to admit he's incredibly awesome and so talented! He's the man behind the camera for Novel Thoughts and I love watching his videos! I've only recently started filming videos for my blog and he's been so supportive of them! Honestly, I didn't think I was that good at it, but he's always telling me to make more so I definitely am! Also, he has mad designing skillz and helped me with this layout :) My layout is Jeffrey West approved!!
Obviously, there are a million other bloggers who have inspired and helped me throughout the year and I owe everything to them.
Coranne
(AKA Amanda) from
Short and Sweet
is an amazing lady who trades tips and tricks with me all the time, and I love having her around to chat with!
Molli
from
Once Upon a Prologue
is also celebrating her blogoversary this month, and we've definitely come a long way together; we share a lot of the same opinions about books and she's super nice about letting me borrow her lovelies<3 The awesome Hicklebee's blogger,
Pam
from
Bookalicious
has been a great friend and inspiration for my blogging and I love how local she is, because I've actually had the experience of meeting her and she is so fantastic and passionate, and I hope to be at least half as successful as her with my blogging in 4 years.
And of course, all of you who spend your time reading my posts and supporting my passion, you are fabulous. I love you, I love you, I love you. I hope to form more and more friendships throughout the next year and hopefully I will be able to add so many others to this list :)
The amazing Michelle from Passionate Bookworm has been so fantastic and has donated TWO books for you guys for today's giveaway, so A BIG THANK YOU to Michelle, who I am forming a great friendship with and hopefully I'll get the pleasure of meeting her because she is AWESOMESAUCE! The winner will receive an ARC of
Fall From Grace
and a copy of
Rattled
!
The Deets:
- US/CAN ONLY
- Must be 13 or older to enter
- I am not responsible for lost or stolen items
- Winner will have 48 hours to respond
a Rafflecopter giveaway